Our proprietary grades have unique performance characteristics particularly suited for dynamic electrical transmission applications.
Due to their inherent self-lubrication properties and dry running capabilities, our products are capable of running without lubricants.
Our high temperature grades are developed specifically to withstand extremely high temperatures while maintaining high strength.
For environments involving extremely low temperatures, our products will withstand these temperatures while maintaining their key characteristics
Our grades are able to be used in a variety of corrosive and harsh environments while resisting decomposition or degradation of the materials.
Resists wear and reduces friction as it is chemically inert, oxidation-resistant and self-lubricating.
When an application requires sanitary conditions, e.g., food & beverage, medical, our products are the ideal solution.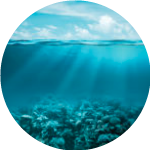 We have specific grades that are able to operate in both freshwater and saltwater.